nick stone – bulldog kickboxing gym balgowlah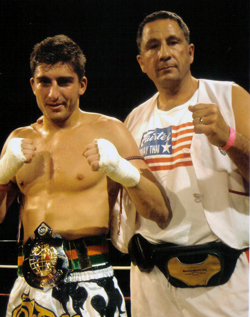 Nick Stone first started his Thai Boxing and Kickboxing training under Master Bunriaing in London in the 80's. After moving to Paul Taylor's Thai Boxing Club in Watford, Nick traveled to Australia where he trained for a year and competed in his first two fights. Nick stopped off at Sityodtong in Pattaya, Thailand, where he stayed on camp for several months. While in Thailand Nick had one fight, which he won by Knockout. Nick left Thailand and returned to London, eager to gain knowledge in Thai Boxing, he took an instructor's course with the famous Master Toddy. Since then Nick has gone on to train with Thom Harink at the Chakuriki Gym in Amsterdam, Sitang Gym and VOS.
Once arriving back in London, Nick started his own club called "Bad Company" which still runs today. Nick had several fights in London, ending in 1989 with a British Title Fight against Trevor Clark. Nick decided to sell his "Bad Company" school to his senior student and BMTA British Champion, Will Kelly, and move back to Australia. Once he returned he contacted his long time friend, Terry Butwell, the owner of Bulldog Gym, and asked permission to use the name.
Nick gained residence in Australia under the "Special Skills Scheme", a scheme in which talented sports people are granted Australian residence. Nick lived with both Bob Jones, the man who sponsored him to come to Australia while training with Dave Hedgecock. During this time he went on to win the Victorian and South Coast Kickboxing Titles, as well as the Australian Professional Thai Boxing Title.
In 1991, Nick moved to Sydney and is currently teaching Thai Boxing and Kickboxing in Balgowlah (Bulldog HQ), a stones throw from the popular destination of Manly. He is Australia's highest graded teacher, gaining his "Kru" certificate in England. Nick also holds qualifications in boxing and Brazilian Ju-Jitsu and is one of the most in-demand trainers on the Australian seminar circuit. Nick is a keen advocate of the European format Muay Thai that is slightly different to Traditional Muay Thai.
Bulldog Gym is now Australia's largest Thai Boxing and Kickboxing School. Due to Nick's efforts he has branches all over Australia including 5 full time gyms. Nick has gone on to produce many national and international champions including world champions Stuart and Steve McKinnon. Nicks students have also gone on to produce world champions. Bulldog is now past its 20th year as Australia's biggest and well known school producing quality students and fighters.
Nick received the prestigious Blitz Kickboxing trainer of the year award for 2002