kids kickboxing classes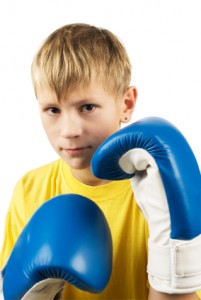 At Bulldog gym Balgowlah we have kid's kickboxing classes on Tuesday at 4.15pm and again on Saturday morning at 8.30am. These classes are for kids between 7 and 13 years of age. Younger or older can also attend, depending on their size.
The kids do a variety of lessons each week, from punching, kicking, and learning discipline, through to fitness and defense from bullying.
They also learn respect for their bodies and how to better conduct themselves amongst themselves and their peers.
Proper education on diet and fitness is also given by the teachers.
The kids kickboxing classes are non-contact, but the bags and pads get a good workout !
These classes are great for kids with high energy levels! The only equipment to buy are gloves and shorts, no pre-booking required – turn up 10 mins early.
Kids Thai kickboxing classes are $15 each or buy a card of ten for $120.