general information
BENEFITS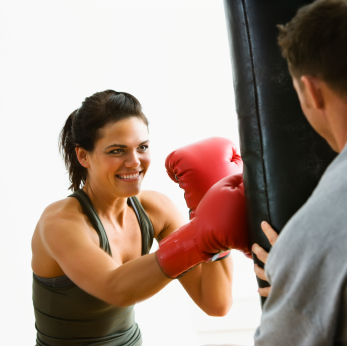 Training in Thai boxing and Kickboxing (and also MMA) at Bulldog Gym Balgowlah achieves a healthy body and mind, and is also an excellent way to learn self defence. Improve your fitness by increasing stamina, speed, strength and flexibility. Create a positive outlook on life and reduce stress & tension through meditation practices in select classes.
SELF DEFENCE
Learning to defend oneself from physical aggression is essential in today's society.
All techniques learnt in class WORK in a self defence situation. Come and train for self dfence or ring fighting, or just come to get fit !
COMMON QUESTIONS
Q : Do I have to be fit?
A : No, all fitness levels are catered for
Q : How often should I attend?
A : Try twice a week for a start, but even once a week will do
Q : How long are classes?
A : One to one and a half hours.
Q : Is it really hard?
A : You train as hard as you want, but if you have to stop, it's O.K.
Q : Will I have fun?
A : Yes, definitely! If you don't, we'll give your money back.
Q : What should I wear?
A : Running shoes and gym wear.
YOUR TRAINERS
All trainers and assistants at Bulldog Gym Balgowlah are fully accredited champion staff. All instructors have fought in the ring and have trained in Thailand. No exceptions.
Owner Nick Stone, started his training 26 years ago in London under master Toddy. Nick has trained with most of England's masters of the art, and fought extensively in Thailand and Holland.
Nick has been a professional fighter, winning numerous championships, including the Australian Thai Boxing Title.
Nick also holds qualifications in boxing and Brazilian ju-jitsu, and is one of the most in-demand trainers on the seminar circuit.
More about Nick Stone
More about Lara Ahola
EQUIPMENT
Full equipped gym : bags, pads, gloves, safety equipment
Boxing ring
Live in student facility
Shower – toilets
Videos
Cold drinks, nutrition supplements
Martial arts shop
Slam man electronic workout
Indoor parking available as well as plenty of street parking.
Personal fitness studio with weights, cardio equipment, etc.
free kickboxing class at bulldog gym balgowlah!
At Bulldog Gym Balgowlah, we want you to join us in having fun whilst learning the art of Thai boxing and kickboxing, so come down, call us or use our contact form to organise your free lesson – you wont regret it!