fairtex gym in bangkok, thailand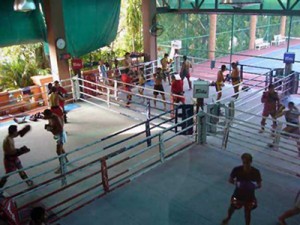 What else can we say? The best place to stay and learn the art of Muay Thai. Fantastic rooms and excellent English speaking staff make this camp the place to go, cheap and in easy reach of all the sights in Bangkok.
You can book online at www.fairtexbangplee.com. The Fairtex factory is on site where you can pick up lots of bargains, and as we speak they are building a new camp with 20 room dorms, 5 rings, matted area, and new pool!